Need Professional Air Duct Cleaning? Call (805) 210-8455
Air Duct Cleaning Services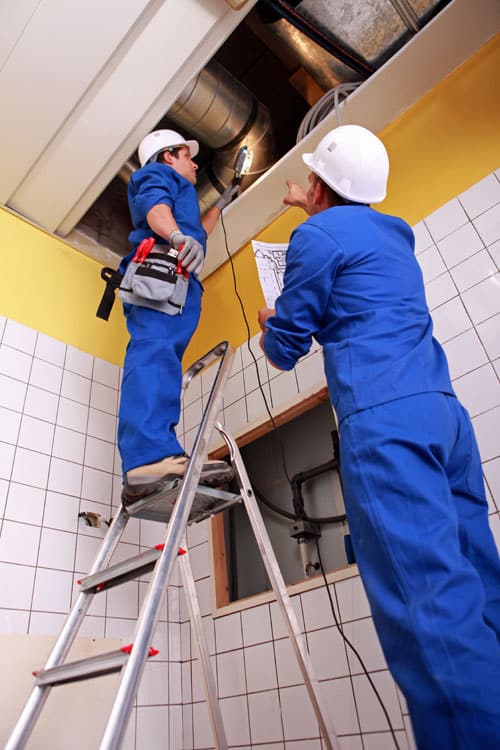 Our air duct cleaning services can make your home smell and feel better.  Central air conditioning and heating work by forcing cooled or heated air through long ducts, typically run through the attic.  Those ducts are out of sight and out of mind.  But unless you have electrostatic air filtering significant amounts of dust, pet dander, and other contaminants make it past the air filter and settle inside the duct work.  Although not proven to cause specific health issues, that can lead to allergies for many people.  Cooking odors, cigarette smoke, and other fine particulates can also build up and become objectionable.
Our Duct Cleaning Service
You won't reap the full benefits if any part of the duct system remains dirty.  So we clean the full furnace & air conditioning air-handler.  That means heat exchangers, AC coils, the fan motor, and the fan housing.  Plus the registers, grills, and diffusers that you see on your floors, walls, and ceilings.
Our cleaning service is basically a 2-step process.  First we use special tools and equipment, such as a rotary brush, to dislodge dust, dirt, and debris.  Then our high-powered vacuum removes them.  If we can't exhaust the vacuum to the outside, we'll use HEPA filters so we won't be blowing any of that dust into your indoor air.
Your Local Air Duct Cleaning Experts. Call (805) 210-8455

Why Is Air Duct Cleaning Important?
The National Air Duct Cleaners Association recommends duct cleaning every 3 to 5 years.  But we follow the EPA and suggest cleaning when they're actually dirty.  Here are some situations where cleaning can be especially appropriate and beneficial.
You live near a freeway or open area where there are a lot of particulates in the air.
There's been a fire, including nearby wildfires, and you notice smoke odors on returning home.
There's been home renovation or remodeling, especially if vents and ducts weren't sealed off.
An inspection reveals

significant levels of contamination ,
evidence of insects or rodents, or
mold growth (our experts can help you identify and correct the moisture problem that caused it).

Any members of the household experience ongoing indoor allergies.
Choosing JW Home Care
Our company was established in 2012 by Johnathan Wagoner.  We've since grown to cover over 80 other Southern California cities.  But we still provide the customer-focused attention and tailored services you expect from family owned and operated businesses like ours.